CASE STUDY
PolyPack CHA CHA CHA 24A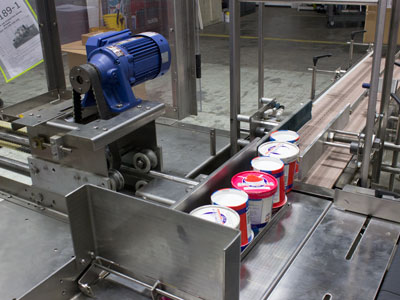 SIGMA Equipment helps a customer modify and program a multipacker to bundle containers of a frozen dessert product.
Situation
SIGMA's customer, Sno Balls To Go, produces a frozen dessert product. The customer contacted SIGMA Equipment looking for a piece of equipment that could be used to align two rows of five dessert containers, and wrap the rows together to form a bundle of 10.
The customer's previous equipment restricted production speed. By finding a machine capable of bundling the two rows together, Sno Balls To Go hoped to increase output and broaden its customer base.
The customer sent SIGMA Equipment samples of the product containers, which SIGMA's engineering staff used to test the modifications to the equipment.
Requirements
Ability to align two rows of product, with five containers per row
Ability to create the correct size of bundle via a single lane infeed conveyor
Ease of use
Solution
The sales representative identified a PolyPack CHA CHA CHA 24A capable of performing a short stroke operation to align the two rows of product. The sales representative confirmed with the on-site shop that modifications and adjustments could be performed to the customer's specifications. The used machine was in good working condition, but was missing some necessary software. Tooling had to be engineered to accommodate Sno Balls To Go's product.
The shop send the PLC to the manufacturer to have the necessary software installed. The machine had originally been built for demonstration at a trade show, and did not have the full offering of software. The new software allowed shop technicians to program the machine to perform a short stroke operation. This means that after one row of five containers was fed into the multipacker, the plow would push the row forward far enough to allow the second row to be fed, but not far enough to engage the wrapper or to travel through the heat tunnel. To ensure the plow returned to the correct position after performing the short stroke operation, the homing proxies were repositioned.
The infeed was modified to stop the conveyor after five containers were fed into the machine. This change required changing the tooling. The photo eye was modified to recognize when five containers had been fed into the machine, and stop the conveyor at the appropriate time.
The machine was given an overall cleaning, and tested for full functionality under required operating conditions.
Results
The rebuilt equipment provided Sno Balls To Go with a savings of 50-60% over purchasing similar equipment new.
The project was completed to the customer's specifications, on budget and within the accepted timeframe.
---