Consignment
We store the equipment. You take advantage of our listing, storage and selling experience to maximize resale value. We manage the details and pay you cash when it sells. Clear out complete lines or multiple machines quickly.
---
How does Consignment work?
Our Consignment Program allows you to free up space now and use SIGMA's professional sales team.
No upfront storage or shipping fees
Our professionals will securely strap equipment for transport
We market your equipment through our network of more than 65,000 email subscribers
We provide professional photos, videos and detailed descriptions for the listing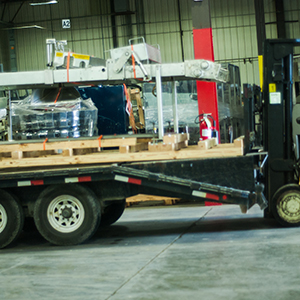 ---
Consignment Selling Process
STEP 1

Arrange a Site Visit

Contact our Acquisitions Department and one of our specialists will visit your location to determine the value of your equipment.
STEP 2

Relocate Equipment

We coordinate pickup and transport of your consigned equipment. Our professional rigging staff ensures safe removal and relocation of your equipment.
STEP 3

We Create the Listing & Market Equipment

Once at our safe, secure, climate controlled warehouse, our professionals fully photograph and document the equipment to create a listing on our website. Your equipment will be posted on our website and may be included in email marketing campaigns to our 65,000 subscribers.
STEP 4

Accept Offer

Interested customers contact us for information and we work directly with them to ensure your equipment meets their needs. We act as the single point of contact during the information gathering and negotiation stages of the sale. We present you with reasonable offers and you give final approval.
STEP 5

Receive Verified Payment

After negotiating the best deal, we collect payment from the buyer and verify its authenticity. Money is then transferred to your account, leaving you with zero risk of returned funds or other potential vulnerabilities. We arrange shipping with the buyer.

Ready to Sell Your Idle Equipment?

Let us know what equipment you have available. We'll take care of the rest.

Start Selling

---