Consignment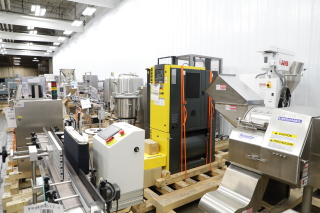 Retain Value While Selling On Consignment
Selling your unused or idle equipment on consignment with SIGMA Equipment is the best of both worlds because it allows you to clear out complete lines and equipment quickly while our sales and marketing teams work to get your equipment sold. This saves you space immediately because we will store the equipment for you. Then our team starts on your consignment. Once we have the piece sold we get your money to you quickly.
How it works
Once you decide to sell your equipment, simply reach out to us to get the process started by clicking on the button at the bottom of this page.
We will talk with you and see if we can send one of our Acquisitions Leads to your facility for an onsite visit. If not, we will then get with you either over the phone or online to get the necessary information to complete our website listing. Some of the information our team will need includes:
- The age of the equipment
- Usage history
- Production speeds
- Added features and options
- Measurements
- Electrical requirements
- Any other important information
When we have all of the information our team needs to complete the listing we will discuss with you the pickup and transportation of your consigned equipment. Our logistics team will work with you and your team to help make sure there are no disruptions in your production schedule.
After the equipment arrives at our facility, our team will clean and custom skid it. To see how we build our custom skids, check out this video below:
Our team will also photograph and gather video of the equipment to give the equipment the best chance to be sold. We then take all of the photos and videos and match them with the equipment information we have gathered from you previously and put everything together to make an extremely comprehensive website listing.
Our marketing and sales team then gets to work connecting with our thousands of customers to get your equipment sold. Our sales team is constantly matching buyers and sellers to help you finalize the sale of your equipment. While they do that, our marketing team sends emails out to our 80,000 customers helping put your equipment in the best light possible. Once our team gets an offer, we present all reasonable offers to you, allowing you to approve any sale.
Once we have negotiated the best deal possible, we collect payment from the buyer and verify the authenticity. This leaves you with zero risk, and after the payment is verified we transfer the money directly to you. We then arrange shipping with the buyer and off your equipment goes to its new home.
Benefits of Selling on Consignment With SIGMA
Consignment options are a great way to take the risk out of selling your equipment. We store the equipment for you and work hard to get it sold, allowing you to remove the equipment from your facility to either make space for new equipment or just remove it from your building's footprint.
Time does not need to be a consideration - allowing you to gain more value than other selling methods. You also get the full force of SIGMA behind you to sell, meaning you aren't in it alone.
To get started on your next consignment project with us, simply click on the button below and fill out the form. Then our team will take a look at your request and reach out to get started.