Outright Purchase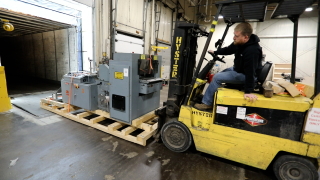 Helping you Save Time and Space
SIGMA Equipment's outright purchase option is a great solution if you're looking to free up space and save time when removing equipment that is no longer needed. We provide convenience and ease to your team and help you avoid the risk and length costs of storing your equipment indefinitely.
The outright purchase offer is the fastest option SIGMA offers to turn your idle equipment into cash. You can use that cash to then fund additional projects with us, or however, you need!
How it works
The easiest step is first, to reach out to us. The easiest way to contact us is by clicking the button at the bottom of this page. Once you reach out we will either schedule an on-site visit, where our team will meet with you and see the equipment firsthand to gather all of the necessary information. If we are unable to meet, we will communicate digitally to gather the following:
- The age of the equipment
- Usage history
- Production speeds
- Added features and options
- Measurements
- Electrical requirements
- Any other important information
After we have all of the information we need, our team will determine if an outright purchase offer will be sent. Once the offer has been sent, you can review and accept or decline - the choice stays with you.
Once the offer is accepted, our team will begin working with you to coordinate the rigging and removal. Our logistics team will work with you and your schedule to make sure that we are not disruptive to your production schedules.
Once we have received the equipment back at our facility and we confirm the piece is not missing any crucial or agreed-upon components, we will promptly send payment.
Benefits of an Outright Purchase With SIGMA
Outright purchase is one of our most popular options for those that are looking to immediately free up space and don't have a lot of time to do it. No matter the reason: new equipment coming in, reconfiguring a line, plant closures, or liquidations - we handle them all!
You gain value immediately for your equipment and can move on to the next stage while we take the equipment you no longer need and can provide it with a new life. This helps your bottom line and helps keep your company environmentally sustainable.
To see all that the outright purchase has to offer and to get your next outright purchase with SIGMA started, click the button below.
Contact