Ryan Yerkes Joins SIGMA Equipment as Senior Buyer and Inventory Manager
RELEASED: 6/13/2018 8:00:00 AM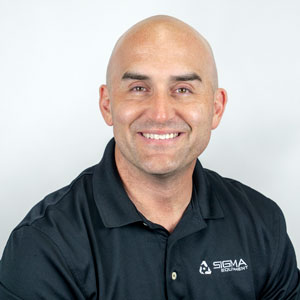 SIGMA Equipment, in Evansville, IN, announced today the appointment of Ryan Yerkes to senior buyer and inventory manager.
With 17 years in the equipment industry, Yerkes brings with him extensive knowledge of industry trends and standards.
As part of his first project, Yerkes will work with SIGMA's business analyst to identify areas where SIGMA should expand its inventory.
"When we buy equipment for our inventory, I want to make sure that we're buying what best fits our customers' needs," said Yerkes. "My focus will be to buy equipment that gives our customers the best value for their dollar, and use our network to find the pieces that are in high demand."
In his previous position with a large used equipment dealer, Yerkes purchased equipment in the cosmetic, pharmaceutical and food industries.
"SIGMA serves a variety of industries, and I'm excited to bring on someone who has so much experience in used equipment," said Company President Rob Palmer. "I think Ryan's expertise will help us enhance our inventory and make our acquisitions department more efficient and effective."
Yerkes earned a Bachelor of Science in Marketing and Athletic Training from the University of Indianapolis in 1997. Prior to joining SIGMA, he worked for 18 years with Frain Industries, Inc. in the Chicago area. Yerkes is excited to return to Indiana, where he will be closer to family.
"SIGMA has a very family-oriented culture," said Yerkes. "I'm excited to see the innovative projects we can accomplish as a team."
###
Celeste Gossmann
Marketing Specialist
P: (812) 303-8383
Founded as Sigma Packaging in 2003, SIGMA Equipment serves manufacturing businesses through the buying and selling of used packaging and processing equipment. Headquartered in Evansville, Indiana, SIGMA specializes in equipment for the food & beverage, pharmaceutical, health & beauty, consumer goods and contract packaging industries. The company pioneered our own online system for connecting equipment buyers and sellers via the internet, engaging the secondary market for packaging, processing and support equipment; SIGMA continues to lead the industry by using the latest technologies to facilitate the marketplace for used equipment. SIGMA Equipment also offers a suite of engineering and technical services in support of the industry's packaging and processing equipment needs.