Our Facilities
SIGMA Equipment has relocated to 424 E. Inglefield Road right off of Highway 41, and minutes from I-64 and I-69.
Our strategic Midwest location in Evansville, Indiana provides you with prompt, convenient, and cost-effective equipment shipping anywhere throughout North America. SIGMA Equipment is located just minutes from the Evansville Regional Airport and with immediate access to major highways and railways.
SIGMA's professional warehouse team builds custom skids and crates to resist damage during transport to locations around the world. With over 660,000 square feet of secure and climate-controlled space.
Safe, Secure, and Climate Controlled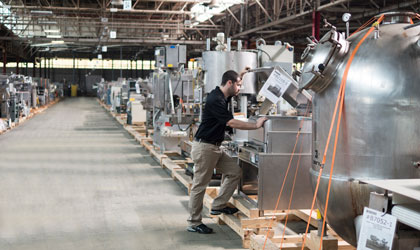 Our team of experienced staff provides safe, professional handling of both inbound and outbound equipment. All SIGMA warehouses are protected 24/7 by security systems equipped with video surveillance, monitored and controlled by our management team.
SIGMA facilities are kept clean and well-lit with a state of the art motion-activated lighting system. Temperature controlled buildings protect equipment from extreme heat, moisture and cold. Maintained Fire Protection Systems provide an additional layer of insurance for inventory safety and security.
Our custom Warehouse Management System with end-to-end bar-coded inventory tracking ensures accurate storage and timely processing of your equipment.