SIGMA Equipment Announces Rebranding of Asset Recovery Program, SIGMA Recovery
RELEASED: 3/7/2017 11:32:00 AM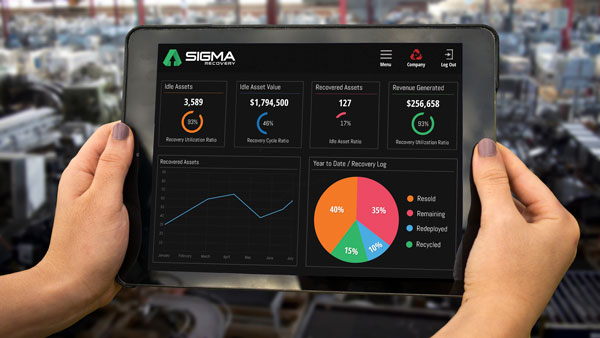 SIGMA Equipment, in Evansville, IN, announced today the rebranding of their Asset Recovery program, now known as SIGMA Recovery.
The system combines cloud-based inventory software, centralized storage, value enhancement services, and sales expertise to help companies maximize the returns for their asset recovery departments.
A company's asset recovery department is responsible for recovering the value of idle or surplus equipment, usually through resale at an auction. SIGMA Recovery is designed to help those departments realize higher returns by focusing on redeploying idle equipment to other facilities, or selling the equipment on the open market before resorting to an auction.
"This is the most comprehensive asset recovery program I've ever seen," said Kris Eigenbrood, Director of Account Development. "Many companies don't realize how much hidden potential is in their asset recovery departments. SIGMA Recovery can help them uncover that potential."
Eigenbrood joins the SIGMA team with 38 years of experience. He managed the Asset Recovery Department at Campbell Soup Company for 25 years, and he is a 20-year member of the Investment Recovery Association. "As I worked with SIGMA to develop this program, I was able to draw from my experiences to fill gaps that I have seen in corporate asset recovery departments," said Eigenbrood.
Rob Palmer, President, is excited to offer innovative solutions to a common problem.
"As part of the rebranding, we've also expanded the services we offer to asset recovery clients," said Palmer. "We built a larger repair shop and a wash bay, introduced a redeployment response time of 24 hours, and made upgrades to our custom software."
By upgrading the asset recovery program, SIGMA plans to use SIGMA Recovery to increase the variety and size of its sales inventory.
"We often see equipment for sale that has been sitting in storage for a long time," said Palmer. "By encouraging SIGMA Recovery clients to track their idle equipment better, and to sell that equipment at an earlier point in its storage life, we'll be able to return a higher value to our Recovery client while offering a high quality machine to the purchasing customer."
To accommodate the expected increase in inventory resulting from the expansion of the program, SIGMA Equipment purchased a large warehouse near its main office. The warehouse is 460,000 square feet, bringing SIGMA's total amount of storage space to 900,000 square feet.
To learn more about SIGMA Recovery, visit www.sigmarecovery.com.
###
Celeste Gossmann
Marketing Specialist
P: (812) 303-8383
Founded as Sigma Packaging in 2003, SIGMA Equipment serves manufacturing businesses through the buying and selling of used packaging and processing equipment. Headquartered in Evansville, Indiana, SIGMA specializes in equipment for the food & beverage, pharmaceutical, health & beauty, consumer goods and contract packaging industries. The company pioneered our own online system for connecting equipment buyers and sellers via the internet, engaging the secondary market for packaging, processing and support equipment; SIGMA continues to lead the industry by using the latest technologies to facilitate the marketplace for used equipment. SIGMA Equipment also offers a suite of engineering and technical services in support of the industry's packaging and processing equipment needs.